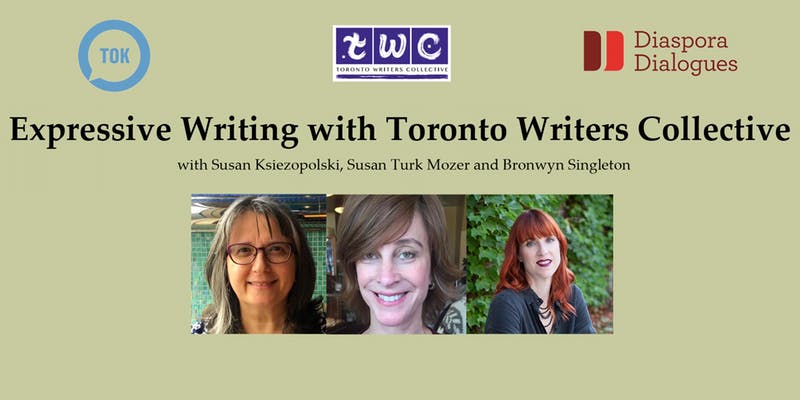 About this Event
Expressive writing and its benefits for you as a writer.
Led by Susan Turk Mozer, founder of the Toronto Writers Collective, and Bronwyn Singleton and Susan Ksiezopolski, this workshop explored how expressive writing engages people at all levels of their writing journeys.
Established as a non-profit corporation in 2012, the Toronto Writers Collective has trained over 160 volunteer writing workshop facilitators in the TWC method. The Toronto Writers Collective provides generative creative writing workshops to unheard populations honouring authentic voice. Our method encourages deep exploratory risk-taking writing, often inspiring stories told for the first time. Based on the seminal book, Writing Alone and With Others, by writing teacher Pat Schneider .
Susan Turk Mozer founded the Toronto Writers Collective in 2012. Susan studied with Pat Schneider, founder of the Amherst Writers and Artist Method and author of Writing Alone and With Others, on which the TWC is based. She has led expressive writing workshops in San Francisco, New York City, Boston and in Malawi, Africa. She is a graduate of University of California Los Angeles and has made encouraging authentic voice her life's work.
Bronwyn Singleton has a Ph.D. in Philosophy and a Diploma in Psychotherapy. She works in private practice in Toronto. Bronwyn is also a Lead Facilitator with the Toronto Writer's Collective, a charitable organization offering creative writing workshops in the GTA. She is thrilled to represent TWC at the Diaspora Dialogues.
Susan Ksiezopolski is an award-winning writer, HeartMath Building Personal Resilience Coach, and a Jack Canfield Certified Trainer. She has published two poetry books, "My Words" and "Writing for Change" as well as two writing aides "The Writer's Workbook" and "Fuel Your Creativity". Her work has also been featured in various anthologies, magazines and on-line platforms. A graduate of the Humber School for Writers and a Lead Training Facilitator with Toronto Writers Collective (TWC), Susan delivers WriteWell workshops across the GTA. To find out more, visit www.mywordsnow.com.